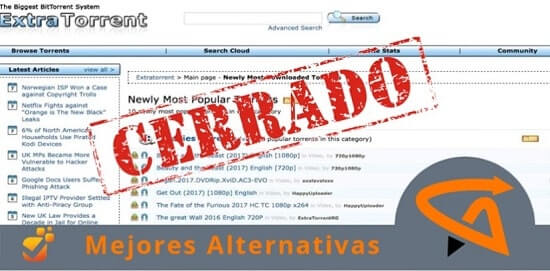 ExtraTorrent is known as one of the most popular indexes of entertainment digital content and software in the world. Since 2nd March 2017, the site has lost control on its main domain, Extratorrent.cc. It is no longer available to users.
ExtraTorrent is ranked as the second largest torrent site, after The Pirate Bay. Extratorrent.cc. allowed its visitors to search, download and exchange links and other files between users.
The popularity of ExtraTorrent has placed the site in the crosshairs for the entertainment industry. As a result advocacy group with copyrights had consistently pressured the hosting companies as well as serving domain name provider in order to take action.
Here Are The Best Alternatives To Extratorrents
1) Torrent Project
Torrent Project boasts a very simple design both on its cover and during searches. This allows you to offer a really fast search speed, without elements that may be annoying on the screen.
As they tell us on their cover, this search engine has almost 10 million torrent files. Surely you will not face any problem when looking for your favorite files. It is one of the best Alternatives to ExtraTorrents.
2) RARBG
RARBG is classic in the field of torrents downloads, from where many episodes of various current series come. In its homepage, we even find news section, the most downloaded torrents, and other functionalities.
In addition, it is also possible to search by specific categories, among which we find games, music, software and, of course, adult content. Without a doubt, it is the best website among the torrents sites and an alternative to ExtraTorrent that we should consider.
3) The Pirate Bay
Known as "the world's most resilient BitTorrent site", The Pirate Bay is a website that lets you search for, download, and upload torrents. Download music. One of the best Alternative to ExtraTorrents.
4) IsoHunt
IsoHunt has been for a long time and currently has an adaptive web design. This means that even if you access it from a mobile phone or tablet, the web page will adapt to the screen width of your device, facilitating navigation.
In terms of its possibilities, it is quite similar to RARBG offering us a news section, search by categories, various criteria to order the list of torrents, and even a forum where you can make inquiries and requests. IsoHunt is definitely an alternative to Extratorrent.
5) EZTV
Although its web design is quite old, EZTV offers us at a glance all the information we need on the homepage. Besides notifying us of the latest torrents that are added to its network, they also tell us what content will be available throughout the day. It is one of the most popular torrents sites where we find plenty of content.
6) Torlock
Torlock is another torrents download website made for browsing on mobile devices. On their homepage, they simply offer us a list of all the available content grouped into different categories. We think it is a good alternative for those who look for a Similar website to ExtraTorrent.
There is also a news section, although this is not shown on the homepage and the list of top 100 most downloaded torrents on the cover page. At the top of the homepage, you can see a collection of the most searched terms.
Also Read: Solar Movie Alternatives
7) Best Torrent
In the main page, we will see the contents that have been added recently, although we will be able to browse through specific categories or searches. As usual, we will find audiovisual content in different video and audio quality.
Definitely, it is one of the Similar websites to ExtraTorrent.
More Interesting: Top 12 Best Torrent websites For Movies, Games
8) DivxTotal
We recommend DivxTotal, which in the same way as Better Torrent, is a website where content is mainly published in Spanish. On its homepage, you will see a general list of the latest available torrents files.
We can also see the list of each category indicating the most recent content in each of them. They also have a forum in case you have any request or doubt.
9) DIGBT
DIGBT is the BitTorrent DHT search engine. The torrent search collects torrent metadata (such as file names and file sizes) and a magnet link (torrent identifier). DHT is a protocol for searching nodes which distribute a torrent.
10) Torrent Harvester
Torrent Harvester is a file sharing application that you can use to search for torrents on multiple websites and copy their location details, and then use a torrent client to download it. It does not sound so special at this point, but this software saves you the trouble of manually having to go through all torrent files.
11) Moviemagnet
MovieMagnet is a torrent search engine dedicated to movies. It combines a minimalist and sleek user interface with all the functionality to find and collect movies. It comes with subtitle search, IMDB info, ratings, and trailers.
12) Bit Che
Bit Che is a free PC program which makes it easy to run searches on 50+ torrent sites in a single operation. It works essentially just as you'd expect. Type a term in a search box, press Enter, and the program opens multiple connections to its various sites. Results are displayed almost immediately
13) TorrentRover
TorrentRover is a simple tool that lets you search and download torrent files from multiple trusted torrent sites. It is very simple to use and offers many powerful options as well. Simply type in what you're searching for and TorrentRover will produce a list of organized results from several popular sites.
14) WiDownload
Torrents Fast and Free Torrent Downloads Search and download new TV shows and TV series, movies, mp3s, music and PC / PS2 / PSP / Wii / Xbox games absolutely for free.
Also Read: 1337X Proxy, Piratebay Proxy, YIFY Proxy