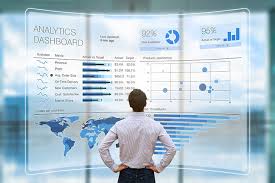 Data is a strategic asset. It is one of the most powerful tools that can influence the success of your business. To make the most out of available data, analytics is important. Read on and we'll talk about some of the reasons why data analytics is essential for businesses.
1. Optimize Your Online Presence
Building a solid online presence is important in promoting your products and services. By being more visible, it is easier to get closer to your target market. While having a website and creating social media accounts will help, they are not enough. It is crucial to embrace data analytics. This will give you a better understanding of your target market, such as age, location, and consumer behaviors. In turn, you can determine the best strategies to use in strengthening your online presence.
Also Read: The Importance of Cloud-Based Project Management System on the Business
2. Hire the Right People
Hiring decisions require going through hundreds or even thousands of applications. Doing this manually is a tedious process. By using data analytics in recruitment, it will be easier to come up with a suggestion of the strongest candidates. Predictive analytics models can improve talent sourcing. It uses advanced systems to match the business with the right candidate.
3. Set a Reasonable Price
Keep your pricing competitive and timely with the help of data analytics. From your customers to competitors, data will provide valuable insights to determine the pricing strategy that works best. Data analytics will help in computing costs and profits, which will be a vital step in coming up with a reasonable price for your products and services.
4. Elevate Employee Training
Take employee training to the next level with the help of data analytics. The latter will help in analyzing the needs of the employees, and in turn, the management can easily identify how it should approach training. There is no one-size-fits-all solution, so you have to rely on the power of data to tailor-fit training to the needs of the employees and goals of the business.
Also Read: 5 Ways to Make Your Business Phone System More Future-Proof
5. Develop the Right Products
Product development is another area where data analytics will be handy. For your product to succeed, it should fulfill a need or solve a problem. Otherwise, there will be no demand. Through data analytics, you can derive a sound conclusion from massive data, making it easier to come up with a product that meets the requirements of your target market.
6. Gain a Competitive Advantage
The intense competition is one of the biggest obstacles to business success. To overcome the competitive landscape, make the most out of data analytics. It is a good idea to consider enrolling in a data analysis course. This will improve your knowledge and skills in using data analytics to grow your business.
From an online presence to a competitive advantage, data analytics can be useful in more ways than one. Data is useless on its own. Businesses should combine it with the right approach to analytics to derive maximum value.
Also Read: How to Promote Your Business With Email Marketing: Email Searching Tool As the Best…