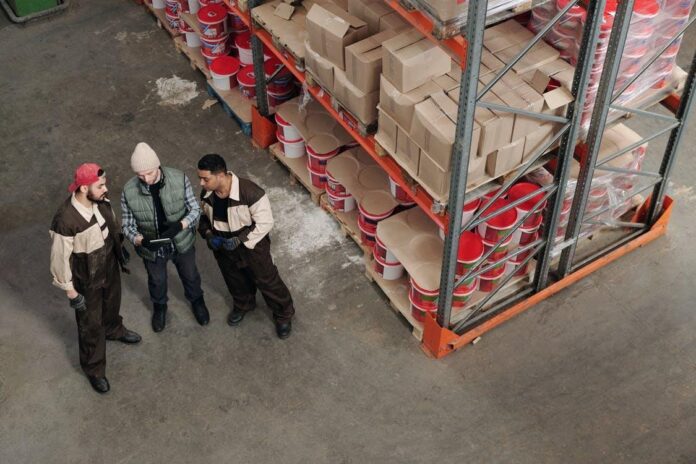 You are all set to start your business venture as a trader and have your business planned to a T. But what you may have not yet decided is how to manage your inventory. It may seem simple initially since what may go wrong in ordering and stocking goods? It is why you may not have taken it into account when chalking out your business plan. However, inventory management is a whole separate subject that requires quite a lot of attention and administration.
You need goods to trade. Even if you are a manufacturing concern, you need raw material to keep your facility running incessantly. A business suffers in numerous ways without adequate stock levels. There are significant reasons why inventory management is crucial to a business. We will look into all of that and more in detail ahead, but first, let us see what inventory management is and how it adds value to your business.
What Is Inventory Management?
Inventory management is how a business keeps track of the stock levels, the amount of stock it may need in the future, and when to order that stock. Companies enact various ways of inventory control according to their needs and trading structure.
Also Read: Choosing Inventory Management Software For Your Retail Digital Future
Why Is Inventory Management Important?
Since inventory is an essential part of the entire supply chain, efficient inventory management delivers substantial benefits for a business, such as:
It helps prevent shortfalls by indicating lower stock levels, which helps in placing timely orders for goods.
It assists employees in warehouse stock management by reducing time and effort.
It helps in managing stock from a central inventory system over numerous locations.
It aids in reducing costs by preventing stock wastages, losses, or thefts.
It helps forecast demand for the upcoming periods, which helps keep adequate stock levels in inventory.
It allows you to keep a check on your inventory levels in real-time.
It prevents excessive buying by giving you an overlook of the goods in stock.
It allows you to conduct various inventory analysis that may help you in decision-making.
Now that we have understood inventory management's significance let us dive into some effective ways you can utilize to implement inventory management in your start-up retail business.
Also Read: Steps to Fix the Microsoft Error Code [pii_email_9c55590039c2c629ec55]
Record Your Stock Levels:
So, the most basic strategy to manage your inventory levels has an inventory recording system. In the past, businesses recorded their stock levels using manual inventory ledgers, which recorded all the purchases and sales. You had the current stock levels, all thanks to the log. You can still follow this, but technology has eased our entire lives, fortunately for this day and age.
An inventory management software can do this work for you more efficiently and cost-effectively. It can also massively reduce the time and efforts spent in recording inventory levels. Such software is also less prone to errors, which means your inventory levels stay accurate on record. Moreover, these systems offer excellent inventory analysis tools to modify and modernize your whole inventory management function.
Employ A Stock Controller:
If you believe your business will have a significant amount of inventory, you can look into the option of hiring a stock controller along with inventory software. An inventory management software will do most of the job for you. However, a stock controller would still be needed to carry out mundane tasks such as processing purchase orders, keeping a check on the delivered items, and signing off deliveries. They will also stay random quality checks on the stock in inventory to ensure all things are good.
Moreover, if you do not wish to get inventory management software, then stock controllers are imperative. If you have negligible inventory in your business, then hiring a stock controller may get the job done. They will keep a check on all your inventory levels and make sure all items are in usable condition.
Audit Your Stock:
Stock audits help you keep a manual check on your inventory. They provide you with a system to cross-check your manual or software inventory ledgers and prove that your inventory levels are accurate. Stock audits also identify any miscalculations or fraudulent activities, if any. Even if you get inventory management software for your business, you should consider implementing a periodic stock audit system.
There are numerous ways that businesses can utilize to conduct stock audits. Some of the methods you can look into include cycle counting, spot checks, a quarterly or yearly full-inventory audit, etc.
Use The FIFO Method:
Inventory management is a science. And a concept of it is the FIFO method. FIFO or First-In-First-Out is an inventory management concept whereby you need to use stock to get purchased. For example, if you own a manufacturing facility and require raw material, 'A 'for production. You will utilize the stored items that came on the first day rather than the one recently arrived.
FIFO helps keep your inventory up-to-date. It ensures the older stock gets consumed before, the fresher one. It helps in minimizing waste and using up items before they exceed their shelf life.
Forecast Inventory Demands:
Once you initiate your business and trade for a few months, you will notice that your sales show a pattern. You can analyze ups and downs in demand and also assess seasonal variations that may affect your suppliers. It will give you an analysis as to how to manage your inventory purchases. For instance, if you analyze that the supplies become short or expensive after a specific season, you can purchase bulk and reduce your costs. This way, you can keep a tab on your inventory requirements, forecast future demands, and make the appropriate decisions on time.
Adopt Just-In-Time Purchasing:
Under a JIT system, you do not have to hold any inventory for production. Now you wonder how this works. Just as the name goes, a just-in-time production facility asks suppliers to provide material only to fulfill customer orders. First, you score a customer order, and once you have established the production quantity, you purchase the stock needed. A JIT system is ideal for businesses since it is cost-effective and eliminates the need for inventory management.
Conclusion:
Inventory management is a fundamental function of any business. It is critical to managing your inventory effectively to reduce high costs in terms of losing customers, stock wastages, etc. When you have a robust inventory management system in place, you can also enhance your inventory function and reap many more benefits, just like some mentioned above.
Also Read: Video Calls With 100 People: Best Alternatives to Skype