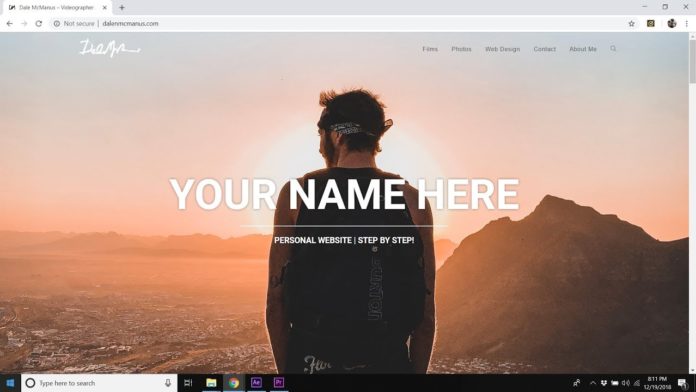 We have been testing different website builders recently (Wix, Squarespace, and others) and found a newer platform that attracted our attention – https://weblium.com/. It was launched only a couple years ago but offers the functionality that can compete with any niche service and beat most of them.
Weblium offers some excellent personal website templates that will inspire you to launch your own site. So we decided to explain when having a personal website may be useful.
Online resume
According to the Huffington Post, 80% of employers screen the applicants using Google or an analogical searching engine before inviting them to an interview. If you have a personal website, it will appear among search results. It doesn't have to be a complete autobiography. List the most impressive achievements and projects, add recommendations from previous employers (if possible). Use it as an application for a job.
How it works: Publish your diplomas, share positive feedback from clients, and reference letters. A personal website shows you as a trustworthy person, particularly, because you are willing to share information with the public. It also looks like you are open to new offers.
Also read: Technology That Makes Life Easier
Professional portfolio
Photographers are not the only ones who need an online portfolio. Writers, designers, editors, translators, managers, and even teachers can make use of an online portfolio. Besides, some spheres require the basic knowledge of HTML/CMS, working with CMS or graphic redactors, etc. When you create a website, you improve these skills and demonstrate them to an employer.
How it works: Portfolio is used to share the examples of your works. Leave contacts so users can order your works or book your services. You can add a page where clients will be able to buy your books, paintings, lesson plans; order a photoshoot or design for their projects, etc.
Freelancers
A freelancer website differs a bit from a portfolio and resume. It usually features the elements of both, as well as some calls to action and marketing elements you can find on an average business website. You can send a link to the site as an application. Some people will find your site among search results and offer to jump on a project. If some of your current partners decide to recommend you to their friends, a website is easy to share. 
How it works: Set up SEO, and your website will pop up among the search results. Write a good "About Me" copy, and you won't need a unique cover letter for every application.
Also read: How Tech Can Help You Better Understand Your Target Market
Personal brand
A website is an excellent opportunity to create and promote a personal brand. If you produce something for sale (make clothes, accessories, paintings, postcards and posters, toys, etc.) you should find proper marketplaces. The majority starts with classifieds and social networks and gradually move to a website.
How it works: People trust an official website more than social networks. In a way, it is more convenient for you, too. You can sell things and services, as well as find partners, much easier.
Hobby
Start a blog about anything you are good at (cooking, traveling, parties, fashion, etc.) with the further opportunity for users to purchase subscriptions or special materials. If you write stories, stop writing only for yourself. If you are into sports, tell about workouts and a healthy lifestyle. If you have been through some tough times, share your experiences and help people with similar issues.
How it works: A blog becomes a way to express one's opinion without judgment – you can even delete comments you don't like, though it is not recommended. Write about anything you like. Communicate with readers. Find partners and ways to monetize your blog.
A personal website is not a necessity, but it can be useful in many cases. A website is more trustworthy than a profile in social networks. It provides more opportunities for promotion. To get Awesome design for your website hire popular Shopify developers now. It is an excellent medium for finding customers and partners. And it requires only a few hours to launch one if you know what website builder to use.
Also read: 3 Tech Tools to Make Life Easier