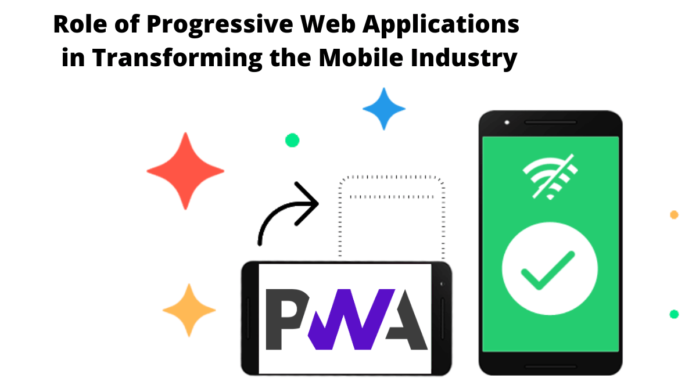 Progressive Web Apps are here and with it, the entire mobile industry has been revolutionised. How? Why so? The answers to all your questions are here.

The mobile industry has something new to offer every time. With the rise of smartphone users and due to new technology advancements, the mobile industry is growing without any pause or turning back and never fails to surprise us.

Ever since Google started favouring and ranking mobile responsive sites that which takes care of the customers and offers a great user experience, businesses started concentrating more on making their store's mobile version, better and faster. Although native mobile apps successfully generated about 50% of online sales, when Progressive Web Application entered the market, the tables turned.

Native apps are engaging and handy, provide convenience to the customers, and comes with a lot of other benefits but, they also happen to have some drawbacks like the need of frequent updates and download, network connectivity issues etc., which came into light when PWAs were introduced. Today, in the world of mobile commerce, where even a second's delay can cost your site conversions and business money, adoption of PWA started turning out to be a knight in the shining armour.  
Also read: Technology That Makes Life Easier

Progressive Web Apps? What is that?
You might be often seeing the term, "Add to Home Screen?" while browsing a mobile site nowadays? That's none other than PWA.

The best aspects of a native mobile app and a minimalist responsive website combined together is a progressive web app (PWA). It is like a website interacting with users like an application which can be downloaded from the web. They do not wait for content to load after each interaction and simply needs to be added to your smartphone home screen.

PWA can be developed from desktop to mobile versions for a number of devices unlike the native apps which require different technologies and coding practices for Android, iOS, Windows etc. They require no installation or periodic updates and are fast-loading regardless of the low connectivity.

Adopted by many big brands, including Twitter, Forbes, Lyft etc., PWAs are now accessible to all, including small businesses – even those that could not have afforded to have their own app developed from scratch, thus helping businesses reach a wider audience on both the web and mobile with minimal time, expenditure, and effort.

How Progressive Web Applications are Changing the Mobile Experience?
User experience is all that matters whether it is a web or a mobile app and PWAs are bridging the gap between the ease of a great website and the difficulty of building and supporting an amazing app. The following advantages of PWA development are the reasons why PWA gained popularity since its appearance:

1. They are fast, reliable, and engaging
2. Improves engagement and conversions
3. Are platform compatible and works for any user
4. Cost-effective and efficient
5. Need no installation
6. Offers offline to online sync
7. Sends web push notifications
8. Utilises low data
9. Improves SEO ranking
10. Provides great user experience
Also read: 5 Cases When You Need a Personal Website

What is so progressive about PWA?
As listed above, it's the features of PWA that make its ability to attract a user ten times more than an app downloaded from the store, and at the same time, the cost of progressive web app development is ten times less than the later. PWAs are free of intermediaries, namely App Store and Google Play and occupy very minimal space on the mobile device, on average 2Mb, since its main components are stored in the browser cache.

PWA uses only web standards – a set of APIs which means they utilize most of the native app functions while working in a regular browser. The heart of PWA is the Service Worker which protects the user from connection problems and also enables a PWA to send push notifications, and get automatic site updates. While it's the Web App Manifest in it that is responsible for some properties of how the site will be displayed and the icon will look after the addition. Moreover, its site resources are transmitted over the HTTPS protocol which means there are no links to unprotected resources.

How is it better than websites and native apps?
Websites and native apps are indeed contributing a lot in building every business's online presence in their own way, but PWAs are doing a lot more than that. They are for connecting with other people, brands, relaxing and being productive.

Comparing the cost of developing the website and native apps, Progressive web app development cost is the lowest due to the single set of tools and code base required in it. Its development time is rapid and can be distributed via URL, with Chrome 72 support for Trusted Web Activity – App Stores.

So, PWA is the future?
Yes! There's no doubt about it. PWA has removed all the flaws that we faced in a website or a native app which has increased its popularity to an extent beyond imagination. That which appeared to be a thing for big brands only is now adopted even by small to medium scale businesses too and may soon replace websites and native apps entirely. Who knows?

Conclusion
Overall, progressive web app ecommerce is bringing relief to both retailers and the customers as it fulfils the needs of both efficiently and cost-effectively. Making a progressive web app ends the dilemma of choosing between building a website or a mobile app for the business as it serves the purpose of both worlds. With lower risk and investment, the game-changing benefits of PWA will definitely give businesses a substantial rise in user engagement, ROI, and workforce automation throughout the year and years to come.

So, without wasting any further time in wondering what to do? Approach the best progressive web app development company – MobiCommerce to develop your Magento 2 PWA or React Progressive Web App now! 
Also read: Artificial Intelligence: How AI Is Reshaping Construction's Next Frontier