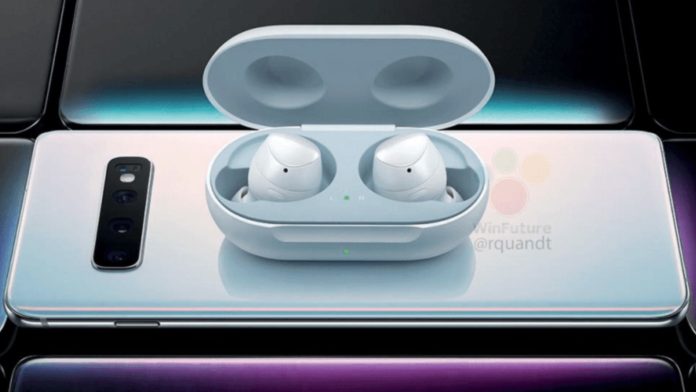 Samsung has a huge leak on the Galaxy S10 and the spill has already reached the Galaxy Buds, the wireless headphones that will arrive this month with the family of S10.
The Win Future site published information about these hearing aids, which would be like Apple's Air Pods for the iPhone, although with improved technology. According to rumors, the back of the Galaxy S10 Plus will be able to charge other devices wirelessly, and the information from the reliable Win Future site mentions that the Galaxy Buds' casing will be compatible with that charge.
The wireless charging on the back of the S10 Plus and the compatibility of the protective case of the Galaxy Buds will allow you to charge the headphones without needing a single cable, unlike Apple Air Pods that need a Lightning cable to charge them.
The headphones placed on the back of the Galaxy S10 Plus (we know that it is that model because it will be the only one of the S10 with a rear camera with three lenses). The housing of the Galaxy Buds, as they are known until now, is very similar to the current Samsung headphones, although the box will be compatible with the induction.
According to Win Future, the hearing aids will have a price of 150 euros in Europe, so their price in the US it would be between US $ 150 and US $ 170. Apple Air Pods without wireless charge are priced at $ 150. Apple has already said it will have a box for its hearing aids compatible with wireless charging, but so far the iPhone manufacturer has not said when it can be purchased.
The Galaxy S10 will be announced on February 20 and the Galaxy Buds could also be announced during that event.
Samsung has not been able to stop the filtering of more images on these phones – or rather it has not wanted. The company would also be planning to announce the Galaxy Fold that day (or at least more information about it) and the high availability of S10 images would be diverting attention from the big surprise for the event. The Galaxy Fold, as it is informally known, will be Samsung's first folding phone. The filtering on the Galaxy S10 is such that every day for several weeks there is a new filtration of images and photos confirming the aspects of these phones. On Wednesday, for example, Win Future accompanied the information of the Galaxy Buds with more renders of the S10. Also, the site Slash leaks and a handful of other reliable filtering have published more images of these phones with different wallpapers.