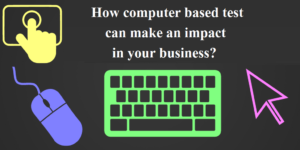 Considering the statistics mentioned above, it is easy to comprehend that coaching and institute business is soaring ever higher in the present scenario.  The reason why more and more students are opting for extra study hours is the level of practice that is needed to create their future through competitive and government exams. 
In the statistics it can be seen that 36% students who go for coaching belong to secondary and higher secondary classes. They are the ones who are striving hard to succeed in the upcoming entrance exams. Mostly all the competitive exams have started to adopt the computer based test platform, so is it not important for coaching centers to embrace the same technology so as to shape better future for the students as well as bring success to your own coaching business. 
Why computer based mock tests are famous amongst learners? 
Mock tests give a clear picture to the learners about the topics that need more attention and the topics that they have practiced well. 

Mock tests are a great method to reduce test anxiety. Many students go through the fear of attempting the test, sitting in the same setting and giving the tests on similar format reduces the anxiety. 

Many students are confused about how to use the equipment and software that is a major part of computer based test platform. Making them habitual with the use of similar software eliminates their hesitation. 

Taking a test definitely makes it clear of how much the learner knows but it is also beneficial in reinforcing the learning and making it much more possible for them to retrieve the same information later. 
Why Computer based mock test are necessary for your coaching business growth? 
Coaching institutes are largely increasing in number and almost all of them promise good grades, to make your coaching institute stand out is difficult. This is the reason why you should embrace technology. Coaching centers that are integrating technology are more likely to gain more students and even help them out with proper learning techniques. Introducing online examination platform in your coaching center can cover up almost all your tech-needs as you can use it as online quiz maker and also as computer based test platform. Some of the other reasons for implementing computer based mock tests are-
It gives you clear in-sight about every candidate's knowledge and their weak as well as strong areas.

With detailed clarity over every student's knowledge you can redesign your teaching techniques and make it according to the learner's necessities.

It is a proven beneficial method to gain learning outcome.

Your teaching is one of the many methods through which students learn but mock tests are another useful method that reinforces learning. 
How to implement computer based mock tests in your coaching institute? 
First of all you need to search for an accurate and efficient online examination platform or you can even directly opt for providers of computer based test platform. Both ways it is fine and you can even get it at affordable rates with best of features. Then you can customize it further to suit your needs and better blend it with your teaching methods. Once the setup is complete you can upload the student information and the test that you have created for the students to attempt it. 
Conclusion 
Coaching centers are becoming a trusted source for students to sharpen their knowledge. Preparing for competitive and government exams from home is not much possible so students seek the guidance of expert trainers and professionals who can train them well for their upcoming exams. 
Now to gain more of students in your own institute and retain them for business growth you need to expose them with the benefits of mock test and how they are useful to shape their future. So embracing the concept of computer based test platform is mandatory in order to enhance your business and make it grow. 

Also Read: Online Debt Consolidation: How Web Technology Has Changed the Face of Debt Consolidation