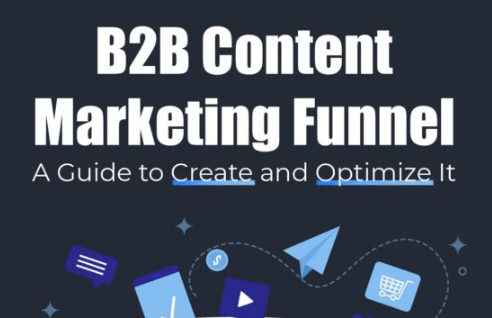 A potential customer goes through three main stages in the B2B content marketing funnel before making a final purchase. The content differs in all three stages and should target the different needs of each type of customer.
You need to create and optimize your B2B content marketing funnel so that your business can succeed on this new type of marketing platform. Here are the best ways of doing it:
1. Top of the Funnel
When potential leads are at the top of the B2B content marketing funnel, they become aware of the business. At this stage, the consumer might or might not know of an existing problem.
Your content will focus on pointing out the problem and the possible solution that your business can provide.
Product ads, product videos, guest posts, whitepapers, blog posts, social media posts, and infographics are some effective content formats to create awareness.
2. Middle of the Funnel
After awareness is created, the consumer reaches the second stage of B2B content marketing funnel. Here, the potential buyer will assess and compare your business solution to that of your competitors.
The content at this stage should focus on converting these leads to sales. The target customer should like your solution better than what is available in the market. You have to convince them of your authenticity and uniqueness.
Whitepapers, ebooks, case studies, ads, webinars, social media posts, blog posts, and podcasts are various content formats to use at this stage.
3. Bottom of the Funnel
Finally, the consumer goes through the last stage of the B2B content marketing funnel. This stage determines the success of your content marketing campaign.
The goal is to have the consumer make an actual purchase at this stage. The content focuses on ensuring consumer's commitment towards your business. It builds trust and the consumer is convinced that you are the best solution available to their problem.
Self-assessments, reviews, questionnaires, product demo videos, events, trade shows, and phone consultations are several ways of persuading potential buyers.
Final Thoughts
Different businesses can create different kinds of content according to their requirements. There is no rule of doing it in a particular way. You just need to understand the pulse of your target customer. Once you know your audience, you can create content that resonates with them. An effective B2B content marketing funnel enables this process.
If you want to learn more about B2B content marketing funnels, check out this infographic from UTM.io.