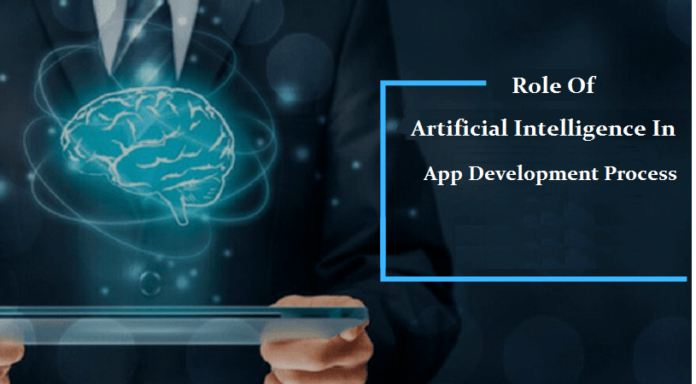 Today, the people want access to information instantly, and that's why mobile apps have become so popular. In fact, the app development companies understand this requirement very well. Thus, they build mobile apps in order to simplify the specific needs of the human.
The mobile apps have become an indispensable part in our lives. Hence, the developers are always finding ways to bring newness in their creation. The reality is that the competition is soaring high, so it becomes necessary to outshine others. For this, it would be great if you incorporate Artificial Intelligence (AI) to make your app noticed.
AI apps are useful in analyzing data and producing information that carefully detects the behavioral patterns of the users. These apps possess immense potential to produce conducive outcomes without any human help. This is outstanding because it provides you the opportunity to stay one step ahead in the tech curve. This is the reason why most of the app development companies have started deploying AI in their apps.
What is Artificial Intelligence?
Artificial Intelligence is a highly advanced technology of computer science, which focuses on building intelligent machines that works like human beings. This has greatly simplify our day-t0-day activities.
Importance of AI in app development
By implementing AI in the app development, the apps can easily mimic the human intelligence. Given below are some points that highlight the importance of this technology in app development:
Enhanced accuracy and perfection in apps
Since the app world thrives on accuracy and perfection, the integration of AI surely helps you achieve this in your development. This technology is best-suited for making your apps a robust app that operates without any glitch, and gives apt results.
Improves customer satisfaction
The integration of AI in app development results in enhanced customer satisfaction. This technology will utilize human behaviour drawn from the app visits for engaging app users. And, it gives accurate recommendations and suggestions. With this, the users don't have to search for the information.
Enhances daily activities
AI has found its application in all spheres of life. This technology when incorporated into apps can improve our daily lives. The sectors like travel and tourism use AI integrated apps for detecting areas with ease. Within education sector, such apps are useful in making the learning experience a better one. You don't have to write all the words as AI can predict it easily. In the medical industry, these apps are effective in the treatment and diagnosis of diseases.
As AI apps are efficient in understanding human behavioral, this helps you in giving the valuable insights of the app users preferences. These apps make the predictive reply better which enhances personalization. Thus, it makes the decision-making process simpler for meeting the requirements of the target audience properly.
Role of AI in app development   
AI plays a crucial role in the app development process. This technology is not only impactful in the decision making process, but influences the app users as well. Hence, there is a drastic difference between the simple apps and AI integrated apps. We have listed some of the main roles of AI in app development. Let's take a look:
AI is beneficial in gathering and sorting of the data of the app users.
Collecting and processing data on app user's contact, location, and daily behavioral pattern. The basic purpose is to deliver a wonderful user-experience and engagement.
It is useful in the revenue generation by rendering an impeccable user-experience.
Some Best Examples of AI Apps 
If you've a smartphone (Android or iOS), then you will notice that there are numerous AI integrated apps available on the app stores. Through this, you will get the virtual assistants that are capable of performing several tasks simultaneously. Here are some examples of AI apps:
Smart apps for smart messaging that help in problem solving and reasoning.
Voice search engine apps give access to the right information hassle-free.
Voice recognition apps read GPS navigation, text messages, etc.
Final Words
The contribution of the AI technology in app development is fairly large. It provides mobile apps the incredible functionalities for a better personalized experience. With the help of AI apps, you can drive the user's engagement without much efforts.
Furthermore, these apps can interact with the users seamlessly. These apps diligently records preferences of the app users for delivering excellent UX/UI. Thus, it allows you to give customized responses against users' queries. Such type of apps are helpful in simplifying the day-to-day task that saves enormous time.
With this, it is safe to say that AI integrated apps have a bright future. They're here to reign the mobile app industry.