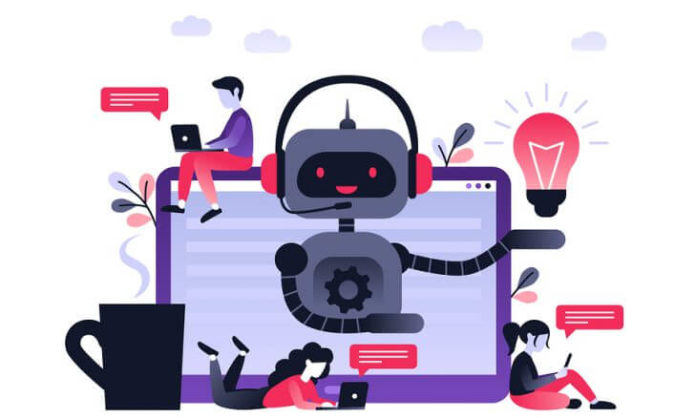 While the foundation for this AI-based innovation was laid almost half a decade ago, this technology has finally picked up a pace, which is nowhere near slowing down any time soon. As businesses worldwide are pushing forward to adopt the new technological changes and move ahead towards optimizing their online presence, various organizations are now accepting this new means of digital communication as the main game-changer for their business.
While creating an AI chatbot for a business website might sound a bit intimidating, there is plenty of evidence that various companies are leveraging their benefits for business, thus making them the new hot topic of today's web technology.
It has become evident in the past few years that chatbots can indeed revolutionize online communication. With ever-growing expectations of users from a website, chatbots have been working wonders in supporting sales, custom app development services, data collection, and management by trying to deliver users with a near-similar quality of experience that they would have got by visiting an actual brick-and-mortar store.
Businesses now are involving more in incorporating such smart chatbots over websites, to influence their revenues and overall customer experience. In fact, a number of websites have been successfully putting the use of such chatbots to improvise more from the sales channels while also providing rich user experience. The best part, rather than sticking to delivering traditional quality customer support to their visitors, websites are now making use of AI chatbots in several ways right from delivering an easy means of navigation, to working on a reactive basis and providing the users with the necessary, at the right place, and in real-time.
However, while its implementation over platforms such as Facebook has found its own prominence, there are plenty of other techniques and logic of using the same piece of technology over websites. Here are 8 ways to use AI chatbots on your website.
Also Read: SAP Data Replication – Processes and Tools
Integrating Chatbots to Support sales-related processes
deploying smart chatbots at various steps of the buying process can highly impact your business ROIs.
From gathering leads to qualifying valuable prospects for the sales team, AI chatbots have found quite a handful of innovative solutions to pace up the sales over websites.
Using AI chatbots to deliver a better overall experience
You can use AI chatbots to impact the overall experience of first-time users. These bots can be made capable of performing active and real-time user-perception analysis for delivering a high-end personalized experience to the user. Chatbots are also a great means of enhancing the search and navigation experience of a user. This also serves as an added benefit for service-based and e-commerce industries where these bots are being used to analyze user intent while delivering them with satisfactory solutions when it comes to product or service related queries.
Using AI Chatbots As A Means of Form Replacement
AI chatbots have enabled the implementation of interactive marketing campaigns for form submission and data collection. While the scenario of a user bouncing back after encountering a list of form queries is common, using a bot 'smartly' will not only ensure reduced bounce rates but will also improve the user experience while congenially acquiring useful pieces of information from the user. This technique can be effective in collecting potential data for user acquisition and lead generation.
Refine Prospects and Help them Connect with the Right Resource Person
AI-based live chatbots are quite efficient in refining prospects and redirect them to the right resource person. these chatbots can be useful in delivering your sales team a more qualified lead. Moreover, other data so collected can then be further used by the sales team to prepare better and reach a step towards assuring a conversion. This lead-engagement tool has proven to save both the time and resources of the businesses while attaining better prospects and their relevant information that has been effectively helpful in client conversion.
Leveraging Unparalleled Advantages for Customer Services and User Engagement
Chatbots have been changing the game lately especially in terms of customer services and user engagement, and in fact, it is customer services that are considered the actual phase where tech-experts and businesses realized its true potential in supporting business activities.
Being in a market where more than half of the users expect 24×7 customer support, AI Chatbots has been working wonders in delivering high-end customer services and has been a great means of resolving most chat sessions without actually requiring human involvement. This has drastically reduced the actual resolution time, as well as the need for active human resources for handling such issues.
Besides being able to solve queries, implementation of these bots allows us to quickly resolve simple queries such as provide the user with product or services information, update them on shipping and delivery related information among various others. A survey indicates that almost 35% of consumers expect to use a chatbot for resolving minor issues and queries, and in the 21st century where business is all about delivering high-quality customer experience, you might consider adding a chatbot to your business website to further spruce up user's interactivity and overall experience while visiting your business on a virtual platform.
Also Read: Chatbots vs Mobile Apps: Where The Future Belongs?
Use Reactive Chatbots For Supporting User-Retention
A user that is at a product page does not share the same intent as the one visiting your About Page or Contact page. Therefore, it is necessary for businesses to accurately presume the basic user intent and react to them accordingly. Reactive smart chatbots have been helping various businesses in incrementing their conversion rate while delivering them with proper support and contributing to user retention. For instance, providing support while sensing that the user may abandon the cart or suggesting a new set of alternatives or similar products when a user adds or removes a product to the cart can be a few common examples.
Add More Resources for a More Personalized Experience
While the use of multimedia elements is yet to gain popularity, it is quite evidently being used over a variety of travel and tourism websites where these bots are being taught to use high-quality images and such multi-media elements to deliver a rich and personalized user experience. One such use of this can be seen while accessing the Emirates chatbot which uses such multi-media elements to support its chats.
Using Local Language for More User Engagement
While it is possible to have a smart bot that connects with people and potential prospects in the most common, English language, it is also possible to program them and deliver users with support in their local language. This method has been quite successful in enlarging the outreach of a brand and business to untouched demographics of users while overcoming the barrier of language communication. More personalization at this level gives businesses a better opportunity to connect with their customers and create a lasting impact at the same time.
Using Cross-Channel Communication for Overall User Engagement
Another major use of AI chatbots over a website can be that these can be used to further extend communication on other channels such as facebook messenger, or Wechat or Skype, and such platforms while conserving the value points from previous conversations. While working on your initial conversation, you can easily reach a wrap-up point and further handle things over user convenient platforms such as Facebook or WhatsApp. This helps businesses encompass various means of cross-channel communication while considering user preferences. However such cases need defining the middle layer structure that lies between the other platform and the user.
While AI-enabled chat bots are being implemented over websites, businesses and tech-experts are still working on discovering new ways of integrating these tools with even more innovation. Though the main task of these bots has been to support and enhance customer experience, their usage is going to expand with more businesses expecting to churn up the user expectation of "interacting with a chatbot" and deliver their business with better user retention, revenues, and impact branding.
Also Read: How Cybersecurity Affects Your SEO