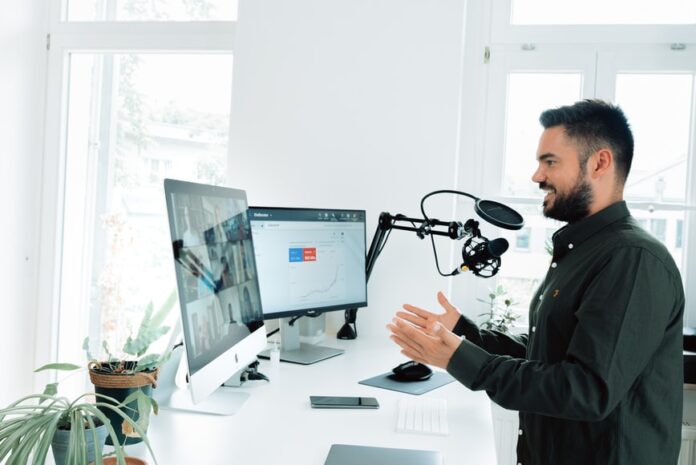 With the pandemic making it trickier to conduct a physical seminar, webinars have taken the world by storm. They ensure the safe distancing of attendees, tend to be cheaper to organize, and can even draw an international crowd if marketed right.
So if you're looking to teach what you know, holding a webinar might just be the way to go. And don't worry if you've never done so before—in this guide, we'll share five tips to help you through the entire process.
Before your webinar: promote it widely
1. Share your Webinar with your email Subscribers
If you're already promoting your business with email marketing, then why not promote your webinar to your email subscribers as well?
After all, people who join your email list are probably interested in what your business offers. So they may naturally also be keen on what you have to say during the webinar. All you have to do is to email them about your webinar, and show them where to register for it.
For example, here's how golf course management platform Lightspeed promoted one of its upcoming webinars via email:
To pique subscribers' interest in the webinar, the platform stated upfront that admission to the webinar was free, and shared a short description of the webinar.
Lightspeed also embedded a golf-related image in the email for visual interest, and included the webinar topics to help subscribers decide whether to attend.
And of course, the business added prominent call-to-action buttons inviting subscribers to sign up.
2. Create a video teaser
Webinar posters are a dime a dozen. So for something different, consider using a video teaser to promote your webinar.
Creating a high-quality video teaser for your webinar might take more effort than, say, typing up an email. But doing so can be especially worth it if it gets you loads more webinar attendees!
Your video teaser doesn't have to be too long (it's a teaser, after all). As an example, this video teaser for a webinar series by Elsevier Clinical Solutions is only a minute long. This makes it ideal for people with short attention spans, which is pretty much everyone nowadays:
The video teaser covers what the webinar series is about, the speakers, and also the launch date and time of the webinar series.
And because links in videos aren't clickable, Elsevier Clinical Solutions has added a clickable link to the webinar series' landing page in the video description.
During your webinar: keep your audience engaged
3. Conduct an audience poll
As you hold the webinar, some attendees may get bored if they feel that what you're covering isn't relevant for them. And you know what they'll do next?
Well, they might not leave the webinar right away if they're polite. But they might quietly turn their webcam off, and then go watch Squid Game or some other hot show on Netflix.
To prevent this from happening, try to tailor your webinar content to match your attendees' interests. A great method of doing so is to conduct an audience poll at the start of the webinar.
This way, you have a feel of your attendees' backgrounds, and can adjust the discussion accordingly.
As an example, when search marketing business WordStream conducted a webinar on reducing wasted spend in Google AdWords (now known as Google Ads), it first did a quick two-question poll to learn attendees':
Biggest struggle with AdWords management
Level of awareness of their AdWords spend
4. Do a live demo of what you're teaching
Will you be teaching others how to do something in your webinar? Then consider holding a live demo.
Because for sure, you can go through the steps involved in a theoretical way. But you might be able to get your point across easier if you show the audience what you're talking about, instead of only telling them.
Doing a live webinar demo could be especially beneficial if you're teaching your audience how to:
Cook a dish
Play a musical instrument
Use a software
Apply makeup, and so on.
In the webinar below, for instance, software business eLearning Brothers is teaching attendees how to build custom graphics and patterns in PowerPoint:
Conducting live demos may involve more logistics than simply talking to your slides, so make advance preparations.
For example, if you'll need to switch from your slides to another screen on your computer, then familiarize yourself with the steps for doing so beforehand.
After your webinar: end on a high note
5. Give out freebies!
People love free stuff. Your attendees took time out of their busy schedules to watch your webinar, so thank them for this by giving out small gifts.
These gifts could be a summary sheet of your webinar discussion, or even a discount code for one of your products or courses. Pick something that's relevant to the webinar you have just conducted.
And whatever you choose to give as a gift, be sure to add your branding and contact details to it. This will help attendees remember you and also get in touch if they need to.
A final pro tip: instead of surprising your webinar attendees with freebies at the end, you can use these freebies to attract webinar signups.
This is exactly what email marketing platform ConvertKit has done when promoting one of its podcast webinars:
So if you were keen to learn how to start a podcast, and saw that ConvertKit will be handing out freebies after its webinar, you might just register without hesitation.
Ready to wow the crowd at your next webinar?
There is a Chinese saying that goes "Behind a 10-minute performance lies 10 years of hard work." Well, the same applies to conducting a webinar. Your webinar may last for one hour max, but be prepared to pour in many more hours preparing for your webinar ahead of time, so you can pull it off perfectly.
If you don't want to spend ages agonizing over your webinar's promotional materials, though, graphic design platforms can help speed up the process of producing them. For example, PosterMyWall offers templates for small businesses to create stunning marketing collaterals quickly and at a low cost.
Then, with your marketing collaterals all prepped and ready to go, you can focus on crafting your webinar content and delivering an outstanding webinar. Good luck!