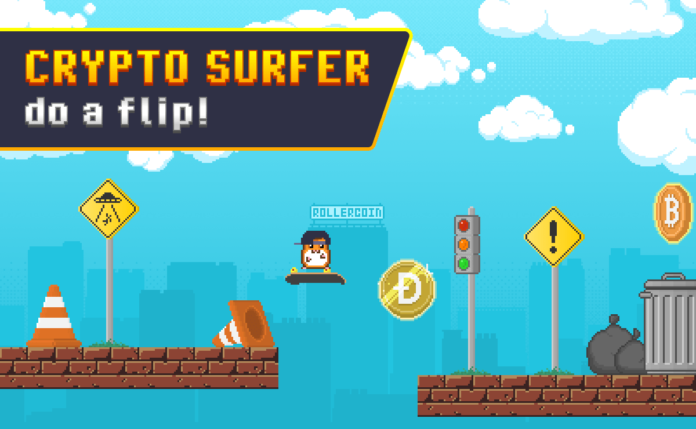 You must have noticed that everyone is talking about how the market value of Bitcoin has risen to more than 53 thousand dollars. However, people are hardly talking about crypto mining games. It may be because people find it hard to believe that one can get some cryptos with just a computer and a stable internet connection. Just play games and have fun! Another reason behind this is that PC gamers consider crypto mining games and cryptocurrency as dirty terms.
Why Are Blockchain Simulator Games Popular?
The crypto sector has seen significant development in the past few years. Gaming is one such major field where cryptocurrencies are being increasingly used. Blockchain simulator games are slowly taking over traditional games.
In these games, the players, upon clearing a level, can mine in-game tokens and real cryptocurrencies. These tokens' value depends on their demand and supply in the market.
In an interview, Brock Pierce had said that the first and foremost to adopt crypto in all its different forms was the community of gamers. Recent research indicates that the market of cryptocurrency gaming will rise further shortly.
A few days ago, there were only a few games related to cryptocurrencies in the market, but now you will find various platforms that allow users to play games and win bitcoins. Rollercoin is one such platform that allows users to play games using cryptocurrencies.
If you are interested in playing blockchain games to try your luck in the industry, Rollercoin is one of the best games that you can enjoy during your free time. Visit RollerCoin.com to get started with cryptocurrency gaming.
What is it about?
Roller Coin It is a bitcoin mining simulator platform where you can play various cryptocurrency related games. These games build your mining power, so you can mine several cryptos including Dogecoin, Bitcoin, Roller Tokens, ETH to the players.
While playing Rollercoin, players must build their virtual data center to produce power. The power produced will then allow players to mine Satoshi Coins, which they can later take out in the form of cash or cryptocurrencies.
The games are entertaining, and you can play against your friends or strangers. Rollercoin's idea is to allocate the block rewards available among the players based on the mining power each player generates. Playing it provides an experience similar to what it is like to mine real Bitcoins.
Game Process at RollerCoin
After signing up on the website of rollercoin, you will be assigned a character that you can customize according to your preferences. You can also choose to change the appearance later on while playing the games. The character will represent you in the game, and it will then be positioned in a small room with a computer in it.
It would be best if you played several small games listed in the rollercoin game. You will find these games in the "games" tab. Upon completing a game, power will be supplied to your character.
You can play numerous small games such as flappy rocket, 2048 coins, token surfer, etc., to generate power. After completing a game, you can click on the "power" tab. The points collected will get transferred to your account.
The games contain ten different difficulty levels that a player must complete, and each level has three steps. That being said, you will have to pass a particular game three times to rise in difficulty. The rewards are generated according to the level of difficulty.
How To Do Mining?
Rollercoin allows its players to mine various digital coins. There are 4 options available to the players, given in percentage. Power can be allocated in any way by the percentage that the user puts in between 3 cryptos and RLT. They can either mine all coins available at once or focus on one coin's power at one time.
Players can also change their choice of coin which they want to mine, and for that, they will have to select the "split power" option available under the "My Power" tab. They can then allocate the percentage of power they would like to distribute among the different coins available.
Inventory
The team of rollercoin has released an inventory feature in 2020 for their players' convenience. This feature unlocks several new features in the game. The game will soon introduce the feature of selling miners as well. The players cannot sell the available miners yet, but they will do so once the market is set up.
Benefits Of Crypto Gaming
Since crypto gaming technology is new, people may not immediately believe in its benefits. As a result, many people refrain from playing these games.
The best way to counteract this problem is by educating people about the advantages of playing such games. They also need to be assured that these games are entirely secure.
"Bitcoin mining is the process of creating new bitcoin by solving a computational puzzle. Bitcoin mining is necessary to maintain the ledger of transactions upon which bitcoin is based. Miners have become very sophisticated over the last several years using complex machinery to speed up mining operations"
 Source – Investopedia
It also helps to secure the blockchain community from any fraudulent activities. It also prevents double-spends, which happens when the same cryptocurrency is used for conducting two different transactions.
There are several blockchains and cryptocurrency games available in the market that allow users to mine cryptocurrencies. RollerCoin is a SIMULATOR, it's not about real mining. Blockchain is only used in transactions: deposits and withdrawals.
Final Word
Back in the day, the thought of getting real crypto by playing games was nothing but a dream for many people. However, today it has become a reality. People can now win and trade virtual currencies by playing games.
Both the desktop and mobile versions of cryptocurrency and Blockchain games are increasingly becoming popular. Complete ownership of the digital coins, simplified payment structures, decentralized payments, etc., are some of the many benefits of playing these blockchain simulator games.
We hope that above mentioned points provided you with a quick overview of Rollercoin. It is one such simulator game whose popularity is exponentially increasing.