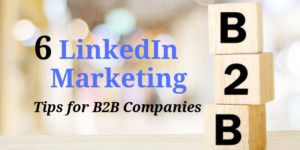 Social media has been around for almost a decade now and it's here to stay. In fact, with high speed internet connectivity and advanced smartphones, social media platforms are growing in size and volume. They have gone from being a place where you shared pictures of a recent trip to powerful tools that can shape the opinion of the masses.
There are a variety of social media platforms that work for different purposes. For example, Instagram is a photo sharing platform, twitter is for topical opinions and thoughts, while Facebook is more friends and family oriented. LinkedIn on the other hand is a 100% professional networking social media site. LinkedIn's interface is built to encourage interaction between people from different vocations and to make networking with the "who's who" of the business world easily accessible. 
The no nonsense work environment of LinkedIn makes it an ideal website for B2B marketing, according to a digital marketing company. But how can you make the best of LinkedIn for your business? This blog will help you figure out a marketing strategy for LinkedIn.
Complete Your Company Profile
This point may seem extremely basic for most marketing departments, but in our experience a lot of people leave their LinkedIn profiles incomplete. An incomplete profile shows a lack of commitment towards the platform and its users.
A complete profile will help you in elevating your company's brand image and generate backlinks to your website as well. Ensure that the profile is precise, factually accurate, highlights your company's products and services and has all the necessary contact information. Showcase your company's logo as the profile picture and design a good cover photo which will encapsulate your tagline and logo.
Also Read: How to Keep Long Term B2B Relationship With The Latest Content Marketing Trends
Create Original Content
As a digital marketing service in Pune, we must tell you that creating good and original content is a vital element in B2B marketing on LinkedIn. LinkedIn users scroll through their feed to add value to their professional lives.
It is therefore important that your content resonates with the target audience and adds some kind of value for them. The content could be about how to use one of your products, or how to fix it/troubleshoot it, or it could be about the latest developments in your industry, or policies that affect everyone.
The content also needs to be a mix of visual and text. Recently, video content has started doing well on LinkedIn. Depending on your overall marketing strategy, post content that elevates your position in the market.
Tag Influencers in Your Posts
All social media platforms these days have their own set of influencers. Influencers have a large amount of power over their followers. When you create posts as a part of your LinkedIn marketing strategy, start tagging influencers.
This helps in boosting your reach and penetrating into a new marketplace. Have regular interactions with influencers through LinkedIn posts, give them a shout out or comment on their posts and so on. They are likely to engage with you, if you have consistently interacted with them on this public platform revealed a digital marketing company in Pune.
Using Hashtags
Hashtags are not only useful on twitter or Instagram but also on LinkedIn. Hashtags help people in discovering your posts. Research what type of hashtags work best for your post and use them while posting.
Hashtags make it possible to attract new eyes to your posts. But do not overuse hashtags. Too many hashtags can make your post look less credible, according to a digital marketing agency in Pune.
Repost Old Content
Yes! Reposting old content really works on a LinkedIn campaign. Take a look at your post statistics and find out which posts have done well in the past. Based on that repost some of the old content on your LinkedIn profile.
You can update the information on the post if necessary and repurpose it to make it more vivid, apart from that an old post can be posted as and when necessary.
Use the InMail Feature
LinkedIn has a great feature called InMail. InMail is like email for LinkedIn. Emails are a highly successful marketing tool. In Mails are effective because they reach your target audience in a very personalized way, stated a digital marketing service in Pune.
They open up the doorway to one on one communication between the executives of your company and the executives of your target audience.
LinkedIn marketing solutions have worked wonders for many B2B companies. B2B is a segment that is generally considered tough for marketing departments to crack. But LinkedIn has opened up those gates and created a reliable, trustworthy and effective line of communication between the target audience and the marketing department of a B2B company.
LinkedIn marketing strategies need consistency, intensive efforts and a clear vision to succeed. It is also a long-term marketing strategy and will not yield positive results overnight.
Also Read: Is PBN the Secret to Link Building Success in 2019?