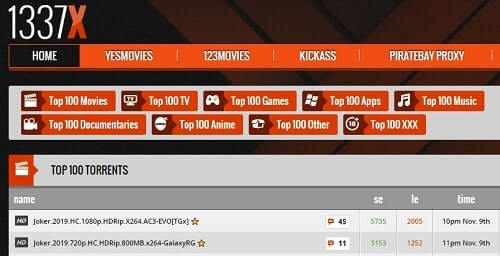 If you have never used torrent, then you are outdated in life. Torrenting is a place where global users distribute tiny chunks of a larger file with each other that when reaches its final destination in bits. Torrent websites are heaven for cord cutters who are in a look out for torrent websites that provide the best list of movies, TV shows, and other video content.
Before we start discussing the world of torrenting, it is essential to understand that the torrent does not give you the right to share pirated or illegal content. Various torrent sites are developed for the purpose of piracy, which is a red flag in the eyes of the ISPs.
Copyright infringement is a major crime and offense in multiple countries, which leads to prison time as well, but we will be looking at all the free torrent sites that will provide you good quality content.
List of Best Free Torrent Sites
Note: Before we move on, it is advised to keep yourself safe from ISPs, as they are on a hunt to crack down torrent users. Torrent by definition is not illegal, but few bad torrenters use pirated content which has brought a bad reputation for the websites. It's better to use a VPN for torrent that will spoof your identity online, keep you hidden from ISPs, and safeguard your online activities.
#1.RARBG
Available since 2008, RARBG is among the top free torrent sites that have an index of high-quality movies and TV Shows. Unlike all other torrent sites, RARBG hosts a top 10 list of content that makes it useful for users. The website has all the recent releases and trending movies that comes with all type of file sizes.
Although the user interface is not the most charming one or even modern but RARBG fans, do not cater to the user interface, instead focus on the list of high-quality movies it provides. Right-click on any movie and open it on a separate page where you can watch its trailer, so you are sure about the download.
#2.The Pirate Bay
The Pirate Bay known as TPB is the highest ranking and most popular torrent site till date. The website has been taken down a few times, but it managed to pop on the web with a different domain. TBP is a site that provides its content in 35 different languages and all the money through donations. The interface itself is simple to use, and since 2003 it didn't change as such.
The site provides a list of categories ranging from music, movies, games, audiobooks, software and much more. With TBP, users can quickly get and avail the VIP statuses where searched torrents provide a pink or green skull icon that indicates that the torrent is 100% secure from malware and spyware.
#3.YTS
YTS.ag is the only free torrent site that focuses on providing 720p and above torrent files that goes up to Blu-ray HD quality. YTS is by far the most decent and appealing website that is easy to use. Although the website takes time to provides trending movies, but the wait is always worthwhile as they have all the genres and categories of movies.
Back in 2015 YTS aka YIFY was shut down but in a few days, it appeared on the web with a new name of YTS.ag. Pop-up tabs can be a petty issue, but the torrent files will be top notch.
#4.1337x
1337x is an old torrent site that has a big directory filled with popular torrent. It has a vast community that is on a constant hunt for good uploaders that upload pirated content. The free torrent site is present since 2007, and it gained momentum when KickAss torrent was shut down in 2016. The website is pure gold for all torrenting enthusiasts as the filter search option is a great facility that will allow you to type and see similar results making the search query easy and unique
Navigation through the site is relatively easy, allowing you to find relevant categories based on your search.
#5.LimeTorrents
With over a decade of providing good quality torrent, LimeTorrents has made a name of itself in the torrent community. The free site offers multiple categories that cater to all the user needs starting from movies, anime, TV shows, apps, softwares, and games. The torrent site is consistently updated where each category displays a total of 100 torrents.
Once searched the torrent site filters all the best seeds and leechers giving users the best torrent files on top. This is helpful because users get to know the health of the torrent files.
#6.TorLock
This is one of the rare torrent sites that use a .com domain which is free and popular among the masses. Torlock is a good website that has a wide range of categories to search from through its easy to use interface. The homepage of the site gives insight to all the latest trending downloads where you can see all the files and their health report (number of seeders and leechers).
While making a search query, the site shows all the relevant searches after indexing them keeping the highest seeders on top, so you don't have to go through the hassle of finding good seeds. 
Also Read: