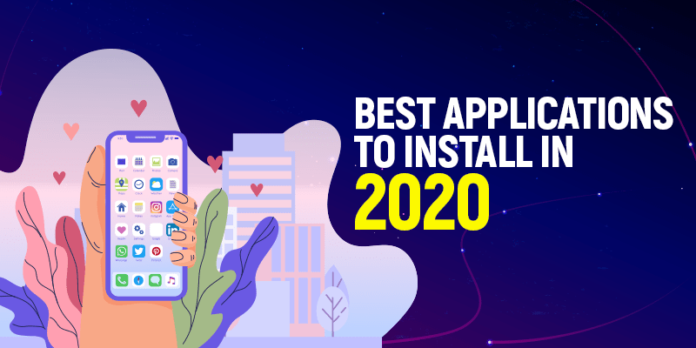 The year 2019 is about to end and preparations for the coming year are in full swing. This is the time of year when people are forming their New Year resolutions, getting rid of older things and replacing them with newer ones. This is also the perfect time to embrace several new bounties of technology. As you plan for the New Year, it would be a wise decision to invest in the correct apps that will help you in your new endeavors.
But with so many apps available on the Google Play Store and iOS App Store, which ones do you install on your phone? Fret not because we are going to share the best apps to install on your phone in 2020. Each app serves a different purpose but they all have the same end goal; to make your life easier. Take a look at the best apps to install in 2020 and invest wisely. Do note that all the apps that we recommend are paid and may include in-app purchases. Before we begin our suggestions, it is our advice that you buy Fastest VPN as the app is a class apart when it comes to protecting your sensitive data and information. It is a high-speed VPN that is changing the entire online security and privacy landscape.
Google Pay
If you are an Android user then Google Pay should be installed on your device (depending on what android device you own). The app offers the most convenient and easiest payment method for its users. It allows you to select any type of card from the wide range of listed banks that are provided. Additionally, it also offers you amazing rewards for each payment that you make.
Features of the app
Simple and easy money transfer at the tip of your fingers.
Send and receive money through audio.
Pay any kind of utility bill: electricity, gas, water, property tax, insurance, etc.
A variety of payment options that include QR code, UPI name, bank details, and mobile numbers.
Earn rewards for every purchase that you make.
FilMiC Pro
FilMiC Pro is a filming app that is available on the iOS App Store. The app is a beneficial filming iPhone app for users that want something more than Apple's camera. FilMiC Pro offers a variety of delightful options for video making and enables you to create flawless high definition videos.
It is the best video filming and editing app for iPhone users that are into video making and photography. Several videographers have used the app to create award-winning projects. These include:
Unsane & High Flying Bird by Steven Soderbergh
Tangerine by Sean Baker
Detour by Michel Gondry
Snow Steam Iron by Zack Snyder
Three Minutes by Peter Chan
Olivia Wilde – No Love Like Yours
Claude Lelouch – The Best Years of a Life (Premiere Cannes 2019)
Features of the app:
Standard, manual and hybrid shooting modes. A shooting style for any skill level.
Apple Watch support for remote start/stop and live video preview.
Vertical and landscape shooting orientations.
Variable speed zoom.
Sync audio frame rates of 24, 25, 30, 48 50 and 60 fps.
High-speed frame rates of 60,120, 240 fps (hardware dependent).
Slow and fast motion FX.
Configurable time-lapse recording.
Tri-mode histogram, including waveform monitor. (A7 processor devices and newer)
Downsampling to multiple size/resolutions.
Customizable saved shooting presets.
Aspect ratio framing guide overlays.
Thirds guide for composition.
Image stabilization.
Support for FiLMiC Remote. FiLMiC Remote allows you to control an iOS device running FiLMiC Pro with a second device running FiLMiC Remote.
Zomato
If you are an Andriod user that lives in India, UAE, or Lebanon and still hasn't downloaded Zomato on your device, then you are missing out on all the delish food. Zomato is an online food ordering and delivery app that empowers you to discover different restaurants to order delicious food. The app lets you explore different restaurant menus, view pictures, read reviews, check out the ratings, and order food at the tap of your fingers. It's a powerful app that every foodie should have on their Android phone. Even if you are not a foodie, you should still download the app because it gives you the freedom to order whatever you want and get delivered whenever and wherever you want.
Features of the app:
Search easily for Restaurants, Cafes, Pubs, and Bars by location, cuisine (e.g. Chinese, Italian, Indian), name (e.g. Starbucks, Domino's Pizza, Amaya).
Explore every restaurant in your city, including the ones near your current location, and use search filters to find the one that suits you best.
View menus, pictures, phone numbers, directions, user reviews, and all the other information you need to choose a restaurant for Dine Out, Food Delivery, Nightlife, or Takeaway.
Browse our theme-based curated lists to discover places for the best burgers, perfect date spots, or the top trending restaurants.
Rate and review restaurants you've been to, and share photos of your foodie moments directly from the app.
Maintain an easy reference list of your favorites or places you want to visit with Bookmarks.
Use the map view to explore restaurants around you, or draw a circle to search in a specific area.
Find and follow your friends to see where they're eating and what they like.
Journal the restaurants you eat at using your Dineline.
In-app table booking (select locations) – you can view and book yourself a table at all partner restaurants.
Streaks Workout
Streaks Workout is a health and fitness app that's available on the iOS App Store. The app offers you personalized workouts as per your needs and helps you get in shape without the need for a trainer. You can build custom workout routines and get an easy workout that lasts for only 6 minutes or get an intense workout session that lasts for 30 minutes.
As you keep using the app, it creates a history log and helps you measure your daily and weekly progress to see how well you are reaching your fitness goals.
Features of the app:
30 equipment-free exercises to choose from.
Create custom exercises.
4 different workout lengths (approx. 6, 12, 18 or 30 minutes).
Create custom workouts.
Plays workout music (requires Apple Music subscription).
Saves workouts to the Health app.
View your workout history.
Syncs your data across iPhone, iPad, Apple Watch and Apple TV.
FastestVPN
Now it's time to brief you about the best app that protects your online security and privacy. This app is a new entrant in the VPN industry and is taking the market by a storm, thanks to its amazing features. Fortunately, this high-speed VPN app is available on both the iOS App Store and Google Play Store. This means that you can be an apple or Android user and still get maximum online protection on your device. Buy FastestVPN today and make your life easier by steering away from all the prying eyes. Take advantage of this high-speed VPN and experience online anonymity and privacy like never before.
Features of the app:
150+ servers worldwide.
P2P-optimized.
High-speed VPN support.
AES 256-bit encryption.
Ad Blocker.
Anti-Malware Protection.
NAT Firewall.
10 simultaneous connections.
15-day money-back guarantee.
24/7 customer support.
The Takeaway
As 2020 approaches us it's time that you install the apps that will prove to be beneficial in the coming year. The apps that we have highlighted above are all excellent additions in your arsenal. Since online privacy and security have become a sensitive matter. The high-speed VPN is just what you need to ensure that you always stay protected from sneaky third parties. You can visit their official website or go to the App Store/ Play Store to buy Fastest VPN for all your secure browsing needs.