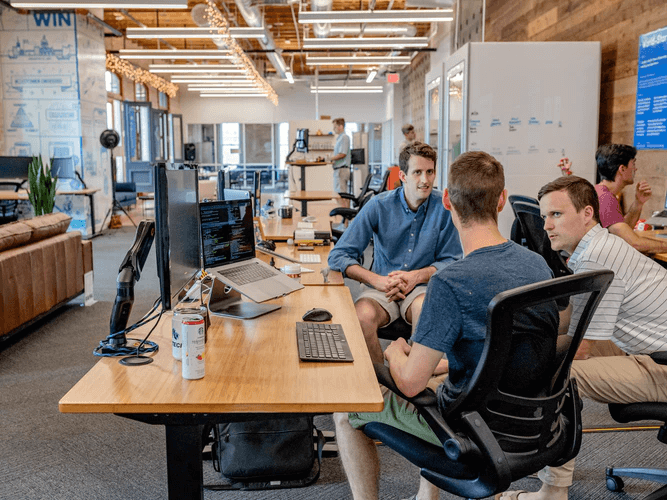 It's no secret that Salesforce is a big deal. It seems like you can't go anywhere without hearing a CEO or an entrepreneur talk about how fantastic Salesforce is. But what is Salesforce? What makes it so amazing?
Let's get into it.
What Is Salesforce
Salesforce is a CRM or a customer relationship management platform. While that is Salesforce's core functionality, its current capabilities have far superseded its original design. It entered the scene in the late nineties and has grown into one of the most robust platforms out there. Today, Salesforce boasts more than 3.75 million total users and 150,000 paying customers.
Beyond that, around 83% of all Fortune 500 companies use at least one of Salesforce's components. Even though there are hundreds of robust CRMs to choose from, Salesforce manages to control 20% of the entire CRM market.
What makes Salesforce the go-to CRM? Why do many people consider it to be the best CRM on the market?
Reasons Salesforce is The Best
There are several reasons why people continue to choose Salesforce over the competitors. Here are five of the biggest reasons why Salesforce is the best CRM on the market.
Reason #1: It's Cloud-based
Salesforce stores all of its robust programming on the cloud. This means higher-capabilities and functionality. It also means that you aren't required to download and store the CRM on your device. This eliminates the need for you to have a computer with an insane amount of storage. It's all stored on the cloud.
Moreover, for you, it means more flexibility. You can access your CRM from wherever you are, with whatever device.
Reason #2: Customizable and Scalable
This reason is probably one of the most significant reasons for Salesforce's booming popularity. Salesforce can be customized to fit virtually any organization's needs. Whether you're a giant corporation or a small business, you can customize salesforce to fit your needs.
The customization options are incredibly robust. It can be complex to integrate, which is why most companies hire salesforce consultants for the initial build. Once built, though, every company's Salesforce CRM is unique to their organization's specific needs and structure. Because of this, it's easy to scale the CRM alongside the business as it grows.
Reason #3: Truly Improves Customer Experience
Statistics show that Salesforce has helped many companies significantly improve their customer pipeline. This, in turn, has helped in improve customer experience. In a world that's increasingly digital, research still indicates that customers value service and Salesforce is known for assisting companies in providing that to their clients and customers.
Reason #4: Mobile and Innovation
Salesforce was one of the first CRMs to create a mobile-friendly application. This app meant that their users could access their CRM on their phones as well as their desktop and tablets. This was huge for Salesforce's customers, but it speaks to one of the reasons that Salesforce continues to rank supreme.
Salesforce constantly innovates to match market demand. They add new features and functions to ensure that their users have access to the latest and greatest in customer management.
Reason #5: More than Just a CRM
We've talked about it briefly already, but Salesforce offers so much more than customer relationship management. They have complete solutions for managing your entire organization. From the sales pipeline to the marketing pipeline, to incoming and outgoing leads, and more, Salesforce offers much more than the basic functions of a customer relationship management platform.
Salesforce allows users to gain insights, predict trends, build apps, build communities, log tasks and activities, improve time management, create and send quotes, and so much more. If there's something that you need your backend software to do, chances are, Salesforce can do it.
Moreover, if it can't do it, it can integrate with a software that can. Or, if that's not an option, there's a bustling community of users, developers, and consultants who can make it happen. It's truly remarkable.
Choose Salesforce for Your CRM
Clearly, Salesforce is a premium CRM choice. If you're looking for a CRM for your company, you can't go wrong with one of the most popular software solutions on the market. Salesforce is cloud-based. It's customizable and scalable. It truly improves the customer experience. It has a mobile app, and the company continually innovates. Beyond that, it's so much more than a CRM.
Remember, though, if you're looking for the right CRM for your company, do a bit of research. Salesforce has out-of-the-box solutions, but most Salesforce users will require a custom build. That means you'll likely have to hire consultants or developers to build your customized Salesforce CRM.
In the end, this initial investment is worth it, but it can be prohibitive for small businesses with limited budgets. So, don't just jump in without doing a little research beforehand. As long as you're prepared, Salesforce is the best CRM on the market. Once you start using it, you'll see why CEOs, entrepreneurs, and Fortune 500 companies can't stop raving about it.