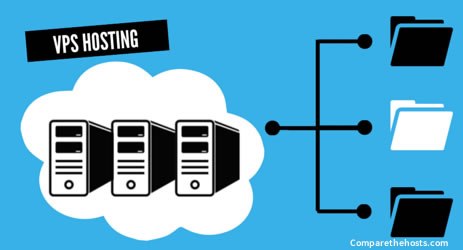 With the Internet as the center frame-performance and integrity of the resources play an influential role. Sometimes you need more power than a beginners-level web hosting service that turns influential with the server performance. If you are looking to take your business online and desire your website on a server that offers more power, flexibility, and stability than the other hosting providers, then VPS is the most favored option. VPS hosting is one of the most powerful web hosting providers that run by virtual machines. It makes it easy for the business to host their services and web resources with the server management.
What Is VPS Hosting ?
VPS as a term stands for a virtual private server which is a private server which has its own copy of operating system where all the users and customers of that operating system are allowed to install any of the software which is available or runs on that operating system.
The pricing of this server is very low in comparison with any other dedicated physical server which has equivalent features. You can notice that here, in the review of HostGator. There are many companies which host a virtual private server for their workers who can work together with each other on this operating system and they can install any of the software which is offered on that server.
There is no denying that VPS hosting Plans contains the best elements of shared hosting and dedicated hosting services. Like shared hosting, VPS hosting get hold your website on a server that also has the linkages tot other websites running on some fewer server location.
Here in this blog, we will discuss about the trending VPS hosting companies that are making impact in server management over the operating system.
1.Hostingraja
In this tech-world, hosting service providers are the one that let you take advantage of the Internet in terms of server management.
Undoubtedly, HostingRaja is one of the most recommended VPS hosting service providers in India. Serving the target audience with over 1.5 lakhs, the elegant service provider is making use of the operating system like Linux, where the interfacing of web applications can be eased with the expertise solution. The platform ID also using the virtualization platform such as KVM, VMware, and other so that it is easy for the Linux operating system to comes up the issues of speed and performance. HostingRaja VPS hosting services also provide hassle loading of web resources with website optimization, overall improving the security aspects.
Today there is no denying the fact the HostingRaja is an emerging VPS hosting provider in India that provides all the security of server management along with the different web applications too.
2.InMotion Hosting
InMotion Hosting is also one of the fastest rising VPS hosting service providers that are mostly used by small business and startups. With its extensive server management system, it is easy for the web users to link the server on the physical hosts so that web interfacing becomes an easy option along with operating system redirection. InMotion Hosting is known for its mattering point in offering reliable services that help the server with faster page load speeds than the average web hosting services. InMotion Hosting is widely recognized as one of the leading providers for self-hosted business websites and is endorsed by a lot of market-friendly sites.
3.Liquid Web
Liquid Web is another excellent choice for VPS web hosting and one of our newer favorites. Their VPS plans are fully managed and come with exceptional customer support (which they call "heroic" and promise a wait time of less than 1 minute). Each VPS hosting service plan comes standard with SSD storage, built-in backups, root access, cPanel/Plesk, robust security features, and a dedicated IP address. Excluding the entry plan, all others include the choice of Linux or Windows O/S and are a favorite choice among many developers. Theirs hosting is one of the most recommended for the servers connected to the virtual machine support that offers almost 100% uptime that is backed by the same percentage of downtime.
4.HostGator
Host Gator is one of the web hosting company that offers all the support using the VPS machines to cover the server performance for getting the website online. HostGator provides excellent technical support and customer service to clients with well-informed staff. The cheapest web hosts, along with the physical servers, offer a wide variety of features and services that are reliable for web development purposes.
They offer both Linux and Windows web hosting through several different tiered plans. HostGator is a well-known brand in the hosting industry and is one of the most popular choices for people choosing a web host due to their advertising campaigns.
HostGator provides web hosting services as a commodity to customers, where they are re-branding a collection of wholesale hardware purchases and software licenses while managing the margins on client turn-over. While not all the features of interface and performance are making a change, HostGator provides what web developers need in server hardware. The facilities of the network interface and data center are used to measure performance reliability that us easy-to-use service overall.
5.BlueHost
BlueHost is one of the most trusted US-based company that provides it's users all the needful VPS hosting services based on customer interests. Typically providing the services to over 2 million people, the company has gained the recognition of server management for a wide variety of web server hardware options running primarily on a custom software stack along with cPanel and Plesk. The operating system, like Linux provides an easy interface with the virtualization of data. Many web designers and developers prefer Bluehost because of their steadfast dedication to the open source community. Bluehost is a decent choice for WordPress because of its Optimized Hosting for WordPress (OHWP) platform. Bluehost cover the various options of sharing the data along with the different hosting provider plans like Shared, Cloud, VPS, and Dedicated web hosting plans for their customers.
Also Read : 6 Major Differences Between Shared and VPS Hosting
Wrapping Up
If you are looking to improve the performance of the server management, then considering the service of VPS is in your factor. You can opt for the best VPS hosting service provider as per your needs! Look for the most trusted and recommended partners of VPS!