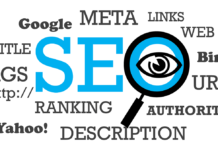 If only you could rank at the top of the Google rankings for all your target keywords! Well, Google is a competitive place, so it's something that takes a lot of time, skill, and effort, but you can get your website to dominate the rankings.
Everyone must start somewhere, and there are a few basic steps that you need to take care of early on if you want to please the algorithms and get your page ready to rank.
Here's a quick guide to making SEO work for your website.
Focus on Quality
Google is smart, and you're not going to spam your way to the top of the rankings. The websites that get to the top of the rankings are the ones that offer real value to their visitors.
It's tempting to get caught up with algorithms and keywords and forget the most essential part of the equation – the people visiting your website.
If you look after these people, then Google will look after you because that's their job. Google wants to send people to the best content, and if you're the one creating it, then you're going to be featuring at the top of the rankings.
Also read: 13377x Torrents for Movies, Games, TV Shows, Software Files in 2020
Don't Neglect User Experience
You can write the best article in the world, but if it doesn't load properly or is jammed full of ads, or whatever user experience (UX) error it might be, then it's not of much use to anybody.
Google pays close attention to how people interact with your page, and if your UX is terrible, then crucial metrics such as time on page and bounce rate are going to reflect this. So, make sure you're looking out for some of the most common UX errors:
Too many pop-ups
Complicated forms
Not being responsive
Poor layout
Difficult to navigate
Too much text
Everyone's been to a website only to be continuously frustrated by the user experience, and what do you do when this happens? You click back to Google and find a better site. This is very bad for your SEO, so make sure you're prioritizing UX. If you need any help about seo consult our SEO Consultant in tirupathi.
Mobile-First/ Speed
More searches take place on mobile devices than on desktop, which means Google is only going to feature a website that works well for mobile. If that's not you, then you're going to have serious problems making your SEO work.
The same is true if your website is slow to load. Not only is a slow page damaging for your levels of engagement – every second your page takes to load increases your bounce rate, but it's also a significant ranking factor for Google.
Analytics
You have all sorts of tools that can help you perfect your SEO, but you've got to be able to interpret the data. One of the great things about SEO and digital marketing is that there's so much data to help you. Data is only helpful if you can interpret it, though, so it's well worth taking an analytics course to help you with this; you can find more information on courses here.
Using the analytics can be the difference between a successful marketing campaign and an unsuccessful one, so make sure you're using all the tools you have available to you.
Also read: 123Movies – Watch Free Latest Movies, TV Shows, TV Series, 123movies Online or Top…
Keywords
Keywords still play a significant part in SEO, and you must be going after the right search terms.
It's easy to get attracted to keywords with high search volumes, but sometimes you're better of going after the keywords with lower search volume but less competition. Think about the kinds of questions your ideal customer will be typing into Google and find the long-tail keywords that you have a good chance of ranking for.
The high-volume keywords are great, but when you're competing with large brands, it can be difficult. It's better to rank number one for a small keyword than it is to rank number 50 for a big keyword, so get doing your keyword research.
Link Building
How does Google know your website is trustworthy? Well, one of the ways Google judges the authority of your website is through the backlinks that point from other websites to your site.
If Google sees lots of authoritative sites in the same niche to you are linking back to your website, then they're going to see this as a strong sign that your content is good.
For example, if you're writing about the moon, and the official NASA website links to your site, then it's a great sign that your content is high-quality.
Work on building these high-quality backlinks from websites in your niche.