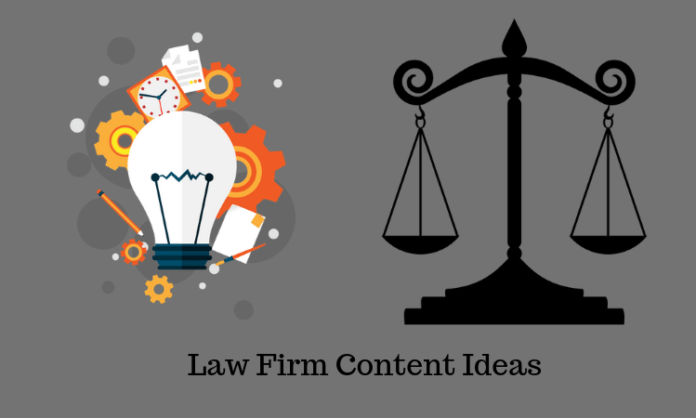 Great content is essential for any website but more so for lawyer interfaces. In this post, we are discussing some effective law firm content ideas that will help draw and engage visitors. People assess the competence of the legal practitioner through the material posted on her website. An interface must not only inform the audience about the person or organization it represents. It must also help visitors and enrich their knowledge. Powerful content is a critical aspect of any online marketing for law firms. It makes people choose your website over those of your competitors and it encourages them to visit your interface regularly. The following suggestions will help your legal firm create valuable material which will attract more and more people to your website.
1. Blogs
Every legal website must have a dedicated blog section which must be updated with fresh matter regularly. The main purpose of having a blog is to provide valuable and informative write-ups to your audience. A separate section also allows you to update the content of your website easily. Research to find out the topics your prospective clients are most interested in and then craft your posts around them. Make sure the articles align with your practice area to keep them relevant to your interface. You can also use blogs to voice your opinion on current legal issues.
2. Infographics
Some legal topics can be confusing and difficult to understand for common people. Such audiences can be engaged by visually explaining complex subjects through infographics. Most attorneys limit themselves by using only text-based material. If you are using the same approach then discard it at the earliest. Infographics are a great medium for effectively communicating your point through a combination of pictures and text. Include statistics and eye-catching images in your work and ensure the material is easy to read. For instance, if you are a DUI lawyer then you can begin by telling how many drunken driving arrests were made in your state. Then you can write about the steps to take if a person is caught for the offense or how to avoid such a scenario. You can use online tools to create attractive infographics.
3. Videos
According to a survey, over 50% of the people engage with a brand after watching any of its videos on social media. Another study says that the consumption of video content is increasing by 100% every year. It is imperative, therefore, that attorneys use videos in their marketing campaigns. Create brief and informative clips that talk about key pain points of your target audience. Make sure that they are well-shot with no jerky camera movements or jarring editing. You can post them on almost all digital platforms like your own website, social profiles, video-sharing networks, etc.
4. Guides
Most people searching the internet for lawyers are looking for a solution to their problems. Informative content that tells them how to negotiate the issue, resonates with them. Guides like how-to articles are one of the most effective law firm content ideas that can boost website traffic as well as conversions. Let's say you are an intellectual property lawyer who is targeting business owners. Then you can create a guide such as "How to sue for IP infringement". The nature of the content will change if your potential clients are artists. Then your matter will be something like, "How to secure your album with copyright".
5. Frequently Asked Questions
The Frequently Asked Questions (FAQs) section of your website can have a great impact on your conversion rate. Providing information in a question and answer format demonstrates to the audience that you have answers to their queries. However, it is essential to know which questions must be included in the section. You must cover all aspects related to your practice area in the FAQ page. For example, if you are a divorce lawyer. Then you can provide all the details about child and spousal support, property division, etc. These are the topmost concerns in the minds of people separating from their partners.
6. Case Studies
A case study provides your audience with a proof of your skills and expertise. The document explains your working methodology and the approach used while representing an actual client. Pick some successful cases and then write about how you handled the issue. This will showcase the effectiveness of your firm to potential clients. Make sure you clearly explain the problem and the strategies used to resolve it. This will put a good impression on the audience even before they have contacted your firm. However, you must take care of confidentiality concerns before posting a case study on your website.
7. Email Newsletters
Email marketing is an effective promotional tool for lawyers which allows them to engage their audience. Every legal website must have an opt-in form to drive newsletter subscriptions. There are various tools like MailChimp which help in running automated campaigns. They also include handy features like pre-built templates for designing attractive newsletters. Attorneys must avoid flooding recipients' inboxes with unnecessary emails. Identify a frequency according to your audience's preferences and then send newsletters containing alerts about new blogs or vital; helpful information. You can also provide links to case studies or how-to guides in the content. In case, you have written a book, then convert it into an electronic format and include its link in the newsletter.
Conclusion
Using these law firm content ideas will help attorneys in creating versatile and engaging material that will hold their visitors' attention. This will boost the traffic to their website and bring more clients to their law firms.