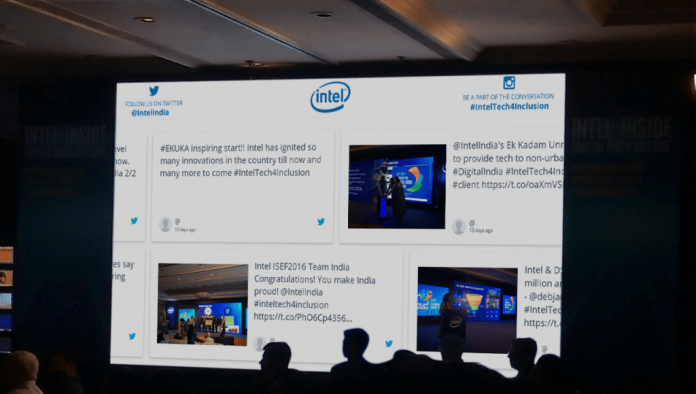 The Real-time user-generated content displayed on big screens look sophisticated and the visitors in the event get convinced comparatively higher than an ordinary promotion.
To make it happen, an organizer must be having some of the necessary things that are discussed below with their process of work and functionalities.
Why Display Twitter Feed In Events
Display of live twitter feed in events is usually a demand that comes from marketing-end. The sales side of the business also happily supports the demand because of its extravagant style to represent the user-generated content.
The reason why any organizer should and have displayed real-time content is that it is capable of raising the user-engagement.
In terms of business, user-engagement is the most crucial attribute.
How to Start and What Are the Basic Requirements?
To display the live twitter feed in an event, the most important thing you would require is, a twitter aggregating tool.
Secondly, some hardware for the display screen arrangements like HDMI support, and a computer to manage the content. These are some of the basic requirements that every organizer must possess to display the real-time content at such a big level.
Post to that, the only work remaining will be of gathering content from twitter. For which, you may use any twitter aggregating tool like Taggbox.
Display Process
Once you get the tool in access, you have to create a feed or a wall within the twitter aggregating tool itself.
To create a wall, the hashtags and twitter account handles that are beneficial for our business, are to be entered in it, so that the content from them could be fetched in.
Once, the user-generated content starts getting collected, a social wall or a twitter feed will start taking a shape.
After that, we can say, the wall has got enough content to display somewhere.
We cannot display the wall directly after fetching the user-generated content from twitter due to certain reasons that'll be mentioned below.
The wall creation within the tool itself thus becomes important so as to preview the display and manage it accordingly.
Also Read: Methods to Promote Your Business on Social Media
Is That All Done Up-Till Here?
Once you get all the data fetched, then technically we can say yes, but ethically it is not done yet.
When your twitter feed is ready, its moderation is required.
Here, Moderation refers to curate the content on the basis of its appropriateness.
As that countless content from twitter hashtags might have something inappropriate in it.
In the case you've got a surplus amount of content that is not possible to moderate manually, the auto-moderation of the content is also possible.
It allows setting rules of moderation like 'to show or not to show' the content according to your priorities and limitations.
With this, you can manage and control the content coming from a specific hashtag, account or any post having malign or profane content.
Auto-moderation keeps your eyes free from scrutinizing every single post manually.
The Moral of the context is, moderation is required before making any live twitter feed display in events.
What Else?
Well, post to moderation, your live twitter feed is just content-wise ready to get displayed as a wall in events.
But, will you be happy just displaying it in an ordinary layout?
If no! Why not choose the 'personalize' option for your live twitter, to make it look attractive before making it big?
To customize the layout of the live twitter feed is an attribute of representation. And one should take care of it before putting the live feed in front of a huge population.
As after all, displaying a wall in an event is all about brand promotion. Then how can we miss a chance to decorate and give our wall a sophisticated look?
Also Read: The Ultimate Small Business Guide to the Most Popular Social Media Apps
What Options Do I Get in the 'Personalize' Feature?
In Personalize, you would find-
Multiple themes

Card styles

Custom CSS (to design the layout manually)

The background image option (to set or create)

The banner image option

Content play (for any video)

To play the video full or not

featured pop-up (to Highlight any specific tweet)

Color for text

Font style & size.
After having all the personalization and moderation done, your live twitter feed is all set to get displayed in events.
About Twitter, in This Case
Twitter has a role to play for the most reliable source, who provides the most relevant content of adequate size.
It is one of the most credible social media networks, over which we can rely on, comparatively higher than facebook or Instagram.
Any Reason Why Twitter Only?
That's not a complete truth that people prefer only Twitter feed to display on the screen. But yes, Twitter has been the most reliable network with the least fake content, unlike other social media networks.
Conclusive Statements
Tech-fairs, summits, and business conferences are some of the niche events that happen roughly every alternate day.
The change has come in the last decade, of 'digitalization'. Everything has gone digital including promotions, the whole marketing has shifted towards it.
That extravagant display of social feeds on big screens is nothing but a fruit of digitalization.
And social media networks including Twitter, Instagram, etc. have been the strongest back behind this dominance of digitalization in almost every sector.
Also Read: Top 15 Games like Spore You Must Know and Play in 2019