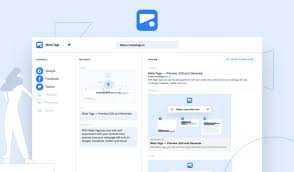 It is not the first time that we speak about meta tags or labels target . As many of you may know, meta tags include all kinds of relevant information that browsers, search engines, social networks and other platforms employ in different ways. Today we are talking about Meta Tags, a tool to check and generate the code of the meta tags in any website.
What we liked most about Meta Tags is that its operation is the simplest. In fact, it is only necessary to enter the URL of any website to obtain their meta tags and experiment with the way in which the content is displayed on social networks such as Facebook, Twitter, LinkedIn or Pinterest. In addition, Meta Tags also shows us a preview of our meta tags in Google and in Slack.
As you can see in the screenshot that illustrates this article, from the left side of the interface we can edit the meta tags of the website. Once satisfied with the result shown on the right side, Meta Tags allows us to generate the code corresponding to the labels we were working with by clicking on the Generate Meta Tags button , so that we can upload it to our website.
Undoubtedly, the tool can be interesting for all those occasions in which we need to modify these labels and we look for an easy way to do it, so we recommend saving it in favorites if you manage a website. You can check its operation by accessing the Meta Tags website .