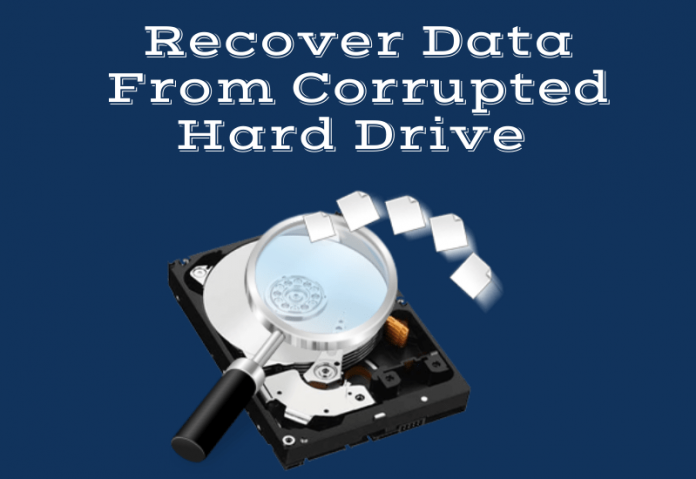 Is Your Hard Drive Corrupted? Here Is How You Can Recover Data from It?
Nowadays, nearly everyone is a digital denizen, meaning that most data is available in the form of soft copies and information storage no longer means papers and files. Instead, everything you own can be stored within devices. This transformation has occurred because portability and convenience have become the top priorities in this fast-paced, busy world.
Hard drives are a very commonly used means of data storage. A very large degree of reliability is placed on hard drives because of the amount of data they can store within them. So, that leads us to an important question. What happens if you find that your data is lost? Just because hard drives are efficient and easy to use does not mean that they are completely fail-proof. They can also be susceptible to damage. While there are many reasons behind a data loss, this post is going to specifically focus on corrupted hard drive recovery and what you need to do if you find yourself facing sudden data loss within your hard drive.
Continue to read and know how to recover deleted files, corrupted files with the help of a professional data recovery.
How Do Hard Drives Get Corrupted?
Hard drives get corrupted when there are internal errors within the file system. These errors are generally caused due to both hardware and software issues such as a system crashes, sudden power outages, wear and tear or even physical damage. In situations like this, usually, the solution is to format the drive so that it refreshes the partitions. However, doing this will wipe out all the existing data.
This can be problematic, especially if you don't have any backup of your data. Since important files and folders are usually stored onto hard drives, formatting is not an effective solution. Instead, the hard drive will need to be repaired, and the corrupted data needs to be recovered. However, before moving on to hard drive recovery methods, it is important to understand how to recognize a corrupted hard drive.
Also Read: 10 Low-Budget Marketing Ideas for Small Businesses
Symptoms Of A Corrupted Hard Drive
There are some common symptoms that you need to be on the lookout for in order to confirm that your hard drive is corrupted. These symptoms are:
File names don't appear properly and have characters within them that you did not assign.
When you click on a file, you get a pop-up saying 'invalid media type' though you could open the file before.
When you try to open the hard drive, you get a pop-up telling you to 'format the drive' before using it.
Warning messages such as 'Disk not formatted. Do you want to format now?'
When you plug in your hard drive, you get an error message stating 'External hard drive not recognized.'
You can hear grinding noises from your hard drive when it is connected to your PC / laptop.
Precautionary Measures To Take
While it may not be possible to eliminate the data loss completely, there are ways to prevent it from happening for as long as possible. Taking simple steps will ensure that the risk of data loss is greatly minimized. Some of these steps are:
Taking frequent backups of your data.
Protecting your PC / laptop with a strong anti-virus software.
Safely ejecting your hard drive from your PC / laptop.
Scanning all downloaded files to prevent malware attacks.
Handling your hard drive carefully and protecting it from external factors such as dust and sunlight.
Replacing your hard drive in a timely manner if it has become too old and is damaged through wear and tear.
Also Read: Chatbots vs Mobile Apps: Where The Future Belongs?
Data Recovery Solution You Can Try On Your Own
Before approaching a data recovery professional like Stellar Data Recovery, you can try to resolve it on your own. Here is how:
Step 1: On your PC / laptop, click on the windows and the 'X' key together.
Step 2: From the menu that opens, select the 'command prompt' option.
Step 3: You will be asked permission to open command prompt as the administrator. Hit 'Yes'.
Step 4: Within the black screen that pops up, type' chkdsk H:/f /r /x'. Replace 'H' with the letter of the drive that is corrupted.
Step 5: Press enter. You should be able to access your hard drive now without any difficulty.
Stellar's Data Recovery Services
If the solution above does not work for you and you find that your drive is still corrupted, then it is advisable that you take your hard drive to a professional data recovery expert like Stellar Data Recovery for recovering data from your corrupted hard drive.
At Stellar, hard drive recovery happens within special class 100 clean rooms which ensure that recovery is safe, secure and reliable.
Stellar Data Recovery has a doorstep drive pick-up facility through which you can get your hard drive picked up from your house and taken for recovery. Further, with their 'no recovery, no charge' policy and a 95% success rate in data recovery, Stellar is the best solution for your corrupted hard drive recovery needs.
In a Nutshell
Dealing with a corrupted hard drive can be difficult. But panicking will not resolve the situation. Instead of worrying about your lost data, it is better if you start thinking about the best way to handle it. Just because you are no longer able to access your data, it does not mean that the data is lost forever. You still can get it back. However, remember that approaching an unauthorized professional may increase the extent of damage than resolve it.
Hence, the best solution is to take the assistance of an experienced data recovery specialist such as Stellar Data Recovery. Stellar Data Recovery has been in the recovery industry for over 25 years and has served millions of customers worldwide during this period. Further, at Stellar, recovery is possible regardless of the type and extent of damage, making it the go-to destination for data recovery!
Stellar has served more than 3 million customers with 100% secure and confidential data recovery service provider. They have a strong portfolio of Class 100 clean rooms, in-house developed advanced technologies and software and a team of 100+ R & D engineers to solve even the complicated data problems within a stipulated time. Recognized and awarded for outstanding services in the IT industry, Stellar has become the first and foremost choice of various Fortune 500 companies.
I hope this information helps you to recover your data.